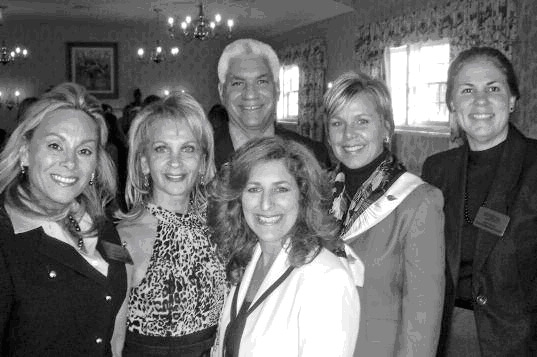 Contributing their time and knowledge to the Women's Focus Fall Luncheon were: (left to right) Women's Focus Group chair Christine Hallahan, CPA; presenters Ina Lutin, RN; Dr. Evan Shapiro and Audrey Kirwin; Women's Focus Group committee treasurer Geri Gregor, CPA and Lisa Haynie, CPA, past chair.
The NYSSCPA Women's Focus Group Fall Luncheon
Friday – November 12, 2010 – The Woman's Focus Group Fall Luncheon was a huge success. Sixty attendees, one of our largest crowds ever, enjoyed each other's company and the guest speaker presentations. Audrey Kirwin, MetLife financial services representative, discussed the perspectives and priorities that distinguish women's decision-making. She also provided an overview of different communication styles and insights into these differences based on gender.
Dr. Evan Shapiro MD, of Woman's Health and Wellness discussed pre and post menopausal physical and emotional changes that often occur, and the various products that can help to alleviate these symptoms.
Ina Lutin, RN, discussed the changes in a woman's skin during her lifetime and gave numerous recommendations as to skin product ingredients to avoid, as well as tips on how to avoid facial lines. A Q&A addressed individual questions.
The distribution of many gift baskets and gift certificates rounded out the program. Everyone enjoyed!